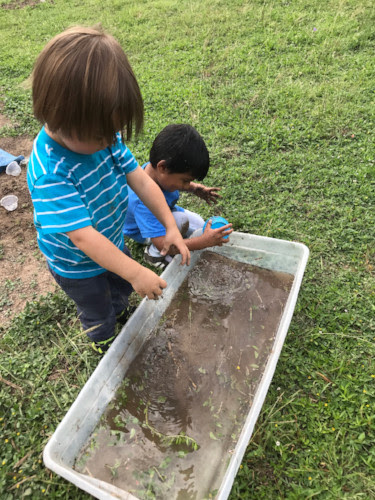 At Wholesome Generation we believe passionately that learning should be an adventure. Your child's experience is bounded only by his or her imagination and dreams.
Our curriculum is inspired by the Reggio Emilia approach to childhood education, which encourages young children and their teachers to explore, question, and discover in a stimulating environment. Children express interests and ideas, research for further information, reflect on the experience and form conclusions. Through this process, children develop confidence and independence with encouragement from parents, teachers and community members.
In addition to personal curricula, learning is woven into fun and creative themes to make learning meaningful, and carried out in project-based learning groups. Group activities promote social development. Enrichment programs for all children include movement, art, music, exercise programs, yoga/dance, nature studies, trips to local community organizations, organic/urban farms, the Nature + Science Center and many Museums, gardening, culinary art sessions and a French language program, of course all age appropriate.
In addition to our emphasis on organic nutrition, we explore gardening with our students and families, and children will learn concepts and models of local food culture, garden ecology and environmental awareness in an experiential learning environment. Creative hands-on activities include lessons in composting, beneficial bugs, water systems, and seasonal growing cycles for Central Texas.
Environmental education integrated with our wholesome curricula and organic nutrition creates an expressive, fun and holistic approach to learning.
Our Staff + Healthy Ratios
An early childhood development center experience is only as good as the teachers involved. Wholesome educators are critical to helping develop the whole child. Wholesome Generation is committed to attracting, retaining and developing exceptional education professionals.
Our staff to child ratios exceed anything level set forth by the National Association for the Education of Young Children.
Our Nutrition
Our Founder is a Conscious Chef and trained as Raw Nutritionist, so we offer the highest quality foods to our children! Meals served to children and staff feature locally-grown when possible, all organic and hormone-free/non-gmo produce. Our Chefs create child friendly dishes with an emphasis on wholesome foods and fresh fruits and vegetables. Parents can rest assured that, not only are their children being cared for in the most stimulating physical surroundings, but they are also being nourished with the best foods for their physical and mental development.
Sample Meal Plan (includes raw-food options)
| | Breakfast | Lunch | Snack |
| --- | --- | --- | --- |
| Monday | Raw granola, fresh fruits, banana almond butter smoothie | Steamed seasonal veggies, roasted chicken, and brown rice | Hummus with fresh carrot sticks and pita chips. Apple compote with cinnamon |
| Tuesday | Hard boiled egg white salad, fresh fruit and vanilla yogurt | Italian casserole with penne pasta, chicken salad with diced apples | Mini peanut butter, jelly pocket, with fresh fruit salad, and dehydrated sweet vegetables |
| Wednesday | Banana avocado puree. quinoa scramble with mushrooms and raisins | Tofu stir fry with mushrooms and brocolli. Steamed quinoa and dried fruits | Sweet and salty kale chips. Sliced avocado with lime and salt. Fromage blac with agave and dried berries |
| Thursday | Cottage cheese with fresh berries. Almond butter, jelly on toast. Banana smoothie | Vegan Mac and cheese with salad and toast. Baked fish sticks with sweet tomato sauce. | Chocolate almond butter with sliced apple, diced cheese, grapes and rice crackers. Quinoa pudding with maple syrup |
| Friday | Raw pancake with agave nectar and fresh fruit salad. Yogurt and raw granola | Peanut butter stew with mushroom root vegetables. Cold pasta salad with feta and olives. | Raw cup cake with almond milk and fresh fruit compote. Mini tea sandwich |
Sign Up now to VOLUNTEER in our community garden space, or in our classrooms!