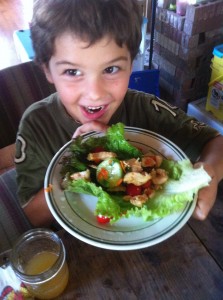 Wholesome Generation® roll's out its newest program: Wholesome Generation FOOD FOR LIFE.
WG has been educating children and their families about healthy eating for some time and we are now launching our community workshops, teaching hand's on culinary classes + camps that are uniquely shaped to accommodate the needs of our families!
Our WG lessons are positive experiences with healthy foods. Through hands-on classes, children learn that good food is delicious and that cooking is an important way to take care of yourself. A 3rd grader said recently: "Do you know what my true passion of food is? It's the way food smells and tastes to me!"
The WG Culinary and Nutrition education curriculum includes hand's on cooking lessons and fruit and vegetable tastings that meet academic standards in math, science, language arts, social studies, health education, and art.
Stay tuned for more updates, new partners, the development of our community kitchen space and more!